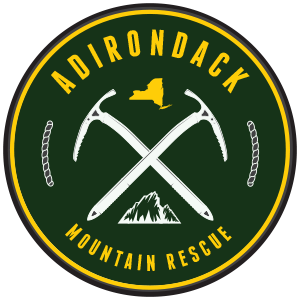 The mountains can be a rewarding place. Getting out in the fresh air and enjoying nature are a big part of life for many people. It serves as an escape from the hectic lives many of us endure throughout the year.
With the enjoying of the wilderness comes certain risks, and for those in need of rescue it sometimes requires a special skill set to access and deliver these people to safety. Adirondack Mountain Rescue trains in advanced technical rescue situations to ensure that we are prepared when disaster strikes. Mistakes can be quite costly in the mountains, especially when rescuing those who are in the most unforgiving of terrain, such as rock and ice climbers. Regular practice and training help to ensure that our rescue unit remains safe so we don't put anyone else in danger in our rescue efforts.
In addition to the standard training for all of Adirondack Mountain Rescue's Active Field Members the Technical Rescue Unit goes a step further to access terrain where others can not. This training is provided by Adirondack Mountain Rescue team members. If you believe that you can be an asset to this part of Adirondack Mountain Rescue, please reach out to jreyes@adirondackmountainrescue.org as we're always looking for new members for this unit. You don't have to come to us trained, but you do need a great attitude and a teamwork mentality. A team is only as good as its members.
Some of the additional training skills for the Technical Rescue Unit are:
Effective Technical Rescue Planning and Communication
Safety Factors and Forces
Equipment Use, Selection, and Maintenance
General Rigging Considerations
Knots
Belaying Techniques
Anchor Systems
Rappeling
Ascending
Rescue Lowering Systems
Edge Management
Mechanical Advantage

Knot Passing
Rescue Litters
Litter Lower and Raise Technique
Rescue Load Changeover Technique
Pike and Pivot Technique
Steep Angle Technique
Low Angle Litter Evacuation
Stranded Patient Pick-Off
Guiding Line Technique
Improvisation
Patient Packaging
Night Rescue Operations
Classes are offered for general rescue education but the majority of training for this unit is conducted through rescue drills.